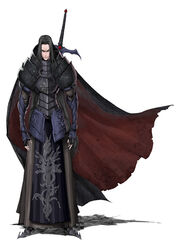 Cardis is a central antagonist and a member of the Darkness Order.
Appearance
Cardis is a man with medium length black hair and wears a dark armor with a black and red cape.
Biography
Cardis is first at the ogre mountains confronting Ada when Lucio, Lydia, and Candace were heading to the Earth Spirit King's altar. She tried to attack Cardis but he attacked and made her fell unconscious. He encounters Lucio but, the ogres came to stop and he wiped out the ogres and the chief.